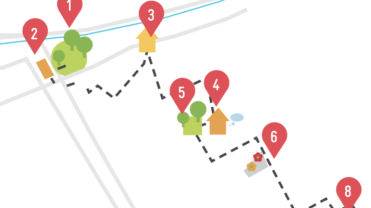 Objectives
The "City Challenge" and the "Youth Health Conference" (Jugendgesundheitskonferenz) are two types of activities for young people in the programme "Healthy Districts" (Gesunde Bezirke) of the Wiener Gesundheitsförderung. In two Viennese districts, the Youth Health Conference is organised, seven districts have chosen the City Challenge.
The Youth Health Conference is based on the proven Viennese model of participative health promotion for young people. The City Challenge addresses young participants to discover "their" districts in a playful and exiting way.
Both activities target potentially vulnerable young people between 12 and 19 as well as relevant adults (e. g. teachers, youth workers). Both activities want to contribute to healthy environments, support healthy initiatives and the development of personal competences.
Implementation
The City Challenge conveys relevant issues around health and well-being in a playful way in the setting district/quarter. The young people walk in small groups, are guided by an app from POI to POI while accompanied by trained supporters. These walks are prepared in a participative process by the young people themselves. They design the tours and chose interesting places and activities for their peers. The City Challenge can be booked for free by all organisations that work with young people (e. g. schools, youth centres, counselling offices).
The Youth Health Conference is a participative process that ends with a final event. The young participants select issues that are relevant to them and work on these issues creatives in teams. Together, they develop and carry out healthy activities and health-related projects. At the end of this process, they organize a large event where they present their projects and take on various roles as hosts. At this event, organisations relevant to young people have the opportunity to present themselves to the young audience.