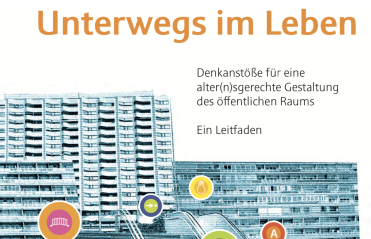 Objectives
Mobility is hugely important in terms of older people being able to remain independent and participate in social life.
With the Guidelines "Mobility in old age" the Federal Ministry of Labour, Social Affairs and Consumer Protection will support the creation of an elderly-friendly environment in order to make the public areas easily accessible for older people and people with restricted mobility.
The publication addresses communal decision makers in cities and communities and other people interested. It will support them in considering needs of older people and people with restricted mobility when planning new projects or redesigning public areas.
The Guidelines include information and awareness raising texts, recommendations for an elderly-friendly planning of public space, reports based on experience of experts and older people themselves as well as examples of best practice.
Implementation
queraum is responsible for the development of the manual.
Besides a comprehensive literature research, we consider the inclusion of the perspectives of experts and older people as extremely important. Therefore, sociologists, urban planners, architects, experts on mobility as well as older people themselves are invited to participate in a development workshop or in face-to-face interviews. This approach will ensure the quality and practical value of the manual.